Photo Custom - Paint By Numbers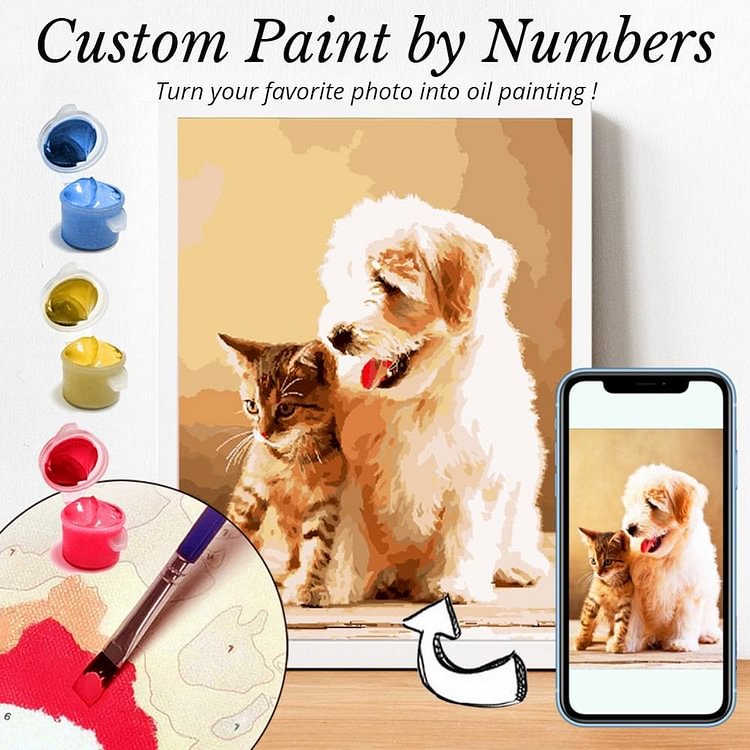 Photo Custom - Paint By Numbers
DESCRIPTION:
Canvas Material:Linen Canvas
Paint Type:Safe & Eco-Friendly Acrylic
How to Paint:Simply follow the step-by-step guide below
Painting Size:Choose a larger size (at least 40cm across) to guarantee the best result
NOTE: Do not change the quantity in your cart! Only submit one photo per custom painting. If you would like to order more, please repeat the process and create a separate order!!
CREATE YOUR OWN OIL PAINTINGS!
Turn your favorite photos into paint by numbers kit! Perfect for all occasions - from birthdays to weddings, anniversaries to new babies! You definitely don't want to miss out on:
Easy Drawing- Fun and enjoyable for craft lovers of all ages!
Relaxing and Joyful- Let the stress melt away as you paint with numbers!
Creative and Educational- This activity assists in developing many good habits, such as patience, concentration, determination, etc.
Enhance Relationship- Share the fun of painting with your family or friends. It can help to enhance the relationship between parents and kids, husband and wife, girlfriend and boyfriend when painted together!
DIY Home Decor- Create your own wall art. What can be more satisfying than decorating your home with your own art?
Perfect Gift- Whether it's for a birthday or Christmas, give them a gift they'll love!
Share- Post your own masterpiece to Facebook and watch LIKES pour in!
4 EASY STEPS TO CUSTOMIZE:
Step 1. Click or tap "Upload Image" to begin looking for the image you'd like to use. Make sure to use high-quality photos because low-quality photos may yield poor results.
Step 2. Select your desired size. The bigger the canvas size, the less detail is lost, so we highly recommend you to choose a larger size (at least 40cm across) to guarantee the best result.
Step 3. Verify your image is uploaded correctly by checking to see if there's a file attached to your order. If all looks good, hit "Add To Cart."
Step 4. Proceed to checkout as usual. You're all set! If you wanna be extra extra sure everything went through okay, you can click or tap the image link attached to your order to download and verify the image as we have it on our end.
Additional information
*Recommended for children over 6 years old or adult age.
*We will not be able to use copyrighted images without the explicit permission of the owner.
*Custom orders need additional 3-5 working days to process before they can be shipped, please refer to shipping policy.